Montar
Showing all 3 results
Sale!
not rated
£

100.00 VAT
or 4 payments of £10.00 with Clearpay
Select options
Sale!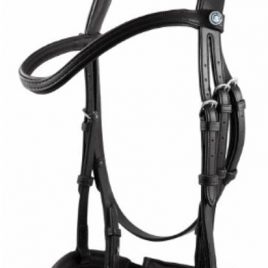 Montar Normandie Bridle
(Please note that in the photo the noseband is placed outside of the cheekpieces to highlight it - however this is of course not how they should be used) Stunning new bridle range from Montar! Brown Full Top comfort without compromising the elegant look. Classic and ergonomic bridle made in Montar Eco Sedgwick Leather with stainless steel buckles. The Normandie bridle has an open headpiece, allowing the bridle to adjust to the unique shape of every horse. The V-gap combined with the soft padding at the sides, allows the neck to move freely so that even the most sensitive horse can relax and focus on following the rider directions. The noseband has completely detachable flash, including the loop which is easily removed by pushing it up between the padding and top leather. So this bridle can be used with or without the flash. The noseband has pullback closure with softly padded cushion to protect the jaw bones. The classic browband is softly padded with elegant curve to highlight the expression of the horse. All montar browbands are easily removed and can be changed even when the bridle is in use. All outer loops are lined with rubber so you never have to worry about loose straps. Reins are available separately.
not rated
£

269.00 VAT
or 4 payments of £50.00 with Clearpay
Add to basket
Sale!
Montar Soft Leather/Rubber Combination Reins
Narrow combined leather and rubber rein with hand stoppers and martingale stoppers. Far left of front photo. The front part of the rein is made from super soft and flexible leather. The combination of soft leather, rubber and hand stoppers ensures that the rider never looses grip even while riding a sweaty horse or in the rain. The bit closure has an insert of elastic to secure a softer connection between the horse and rider. Width approx 16 mm. French hook fastening to bit.
not rated
£

69.00 VAT
or 4 payments of £13.75 with Clearpay
Select options