Bell boots
Showing all 8 results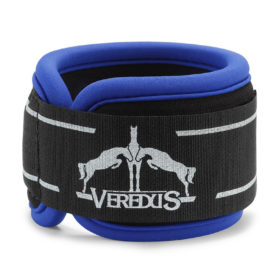 Veredus Magnetik Pro Wraps
The Veredus
Magnetik Pro Pastern Wraps have a magnetotherapy action which provides many benefits for you horse. This therapeutic device with 6 neodymium magnets that develop a power of 2400 Gauss each, distributed on the pastern area. These horse therapy boots are made from Neoprene and are lined and trimmed in Lycra that guarantees maximum comfort. These boots help to reduce pain and swelling, stimulate blood flow, speed up recovery and aid the elimination of toxins from your horses body.
Features
 Reduces pain and swelling.
 Stimulates the flow of blood.
 Speeds up the elimination of toxins.
 Speeds up the regenerative processes.
 Comfortable neoprene.
 Easy to use, lightweight and flexible.
 Secure closure thanks to a Velcro® strap.
not rated
£

38.00 inc. VAT
Select options