Fly Rugs
Showing all 6 results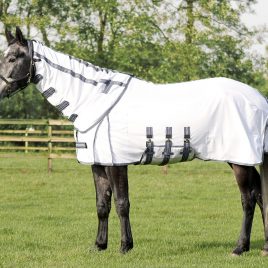 QHP Fly Rug with Detachable Neck
High quality anti-fly rug made of extra strong fabric.
Features an extra Velcro fastening for the neck to prevent it from separating from the main rug.
The rug has an extra long neck and tail flap.
The extra high shoulder gussets make it more comfortable for the horse.
A fly mask can be fastened on the three loops on the neck of the rug.
Double chest closure with surcingle clasps, with Velcro overlap Belly flap with Velcro and three surcingles with elastic ends Features elastic leg straps Four Velcro closures on the neck Matching fly mask available
not rated
£

90.00
Select options