Fly Rugs
Showing all 7 results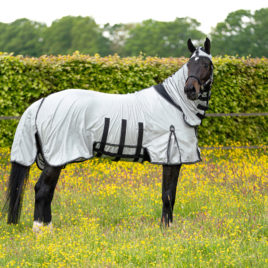 Presteq Smart Protection Fly Sheet
Fly sheet Smart Protection is an innovative and technical fly sheet. The blanket has been treated with Repel Mosquito to keep insects away. This is the safest and most effective protection against insects. The special design ensures an optimal fit, extra comfort and maximum freedom of movement. The fly sheet is made of 320 GSM polyester mesh and is sun reflective. This mesh fabric is extra strong and tear resistant. The fly sheet is fitted with chest and shoulder gussets, belly flap and elastic leg cords. Made with a long neck that continues on to the head with openings for the ears. The front fasteners are located on the side of the sheet so they do not irritate the middle of the chest and neck area. The elastic in the front and on the withers ensures an optimal fit. The elastic on the front also ensures that no pressure can come on the horse's windpipe. The special girth fasteners in PresTeq form provide extra convenience with a turn and click fastener. In addition, the fly sheet is lined with nylon at the mane, forelock, shoulders and tail flap to prevent chafing. The tail flap is extra wide for optimal protection and features an anatomical Shaped
TEQ
. This means that the tail flap has been cut back further for extra freedom of movement of the tail.
Made of 320 GSM polyester mesh
Sun reflective
Treated with Repel Mosquito to keep insects away
Equipped with chest and shoulder gussets and elastic leg cords
Elastic front and withers
Fitted with front closures on the side of the sheet
Equipped with extra long neck with cut-outs for the ears
Nylon lining at crest, forelock and shoulders for protection against rubbing
With belly flap that is easy to close with the special PresTeq turn and click fasteners
The tail flap is extra wide for extra protection and features an anatomical ShapedTEQ; the tail flap is cut back further, so that the tail has extra freedom of movement
Wash at 30°C. Do not tumble dry.
not rated
£

135.00 inc. VAT
Select options