Mattes Half Pad
Showing all 4 results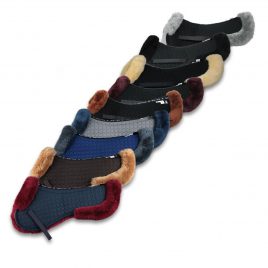 Mattes Half Pad
For guaranteed Christmas delivery, Mattes custom orders must be placed by 13th November.
CURRENT ORDERS TAKING APPROX 6 WEEKS
These stunning half pads really are the leader in quality half pads. Available in Pony-XL in Dressage, GP or Jump style to suit your saddle.
Available with Extra Wide Wither Area for horses / ponies that have either a prominent / high wither or are ridden in a saddle with a wide gullet. The Extra Wide Wither Area enables the Half Numnah to be correctly placed underneath the saddle, so that there is no pressure over a prominent or wide wither and the sheepskin is correctly positioned under the seat panels to provide optimum performance
Mattes SPINEFREE® design prevents any pressure in the wither area and along the spine.
Detailed washing and care instructions with product information are attached to every single product!
If washed correctly Mattes products can last for years.
Sheepskin items are made from 100% genuine highest quality sheepskin. Available without velcro keepers, standard, d-ring or pm system which has slots for velcro keepers from an under saddle pad to be attached. Top Tape is available in White, Black, Pink, Champagne and Brown. Velcro Keepers are available in White, Black, Grey, Silver, Red, Burgundy, Pink, Champagne, Green, Taupe, Brown, Blackberry, Light Blue, Navy, Olive, Royal Blue and Nougat. Mattes Saddlefix a simple system designed to ensure that your saddle pad says exactly where it should, with connections to the front and rear this will avoid any sliding of the half pad.
not rated
£

0.00 inc. VAT
Select options