Saddle Covers
Showing all 3 results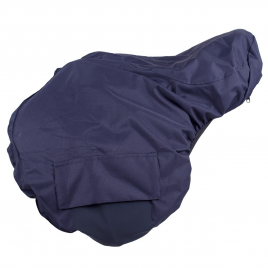 QHP Ride On Saddle Cover
Water-repellent saddle cover that can be used whilst riding and protects your saddle against rain. The stirrups can be pulled through slots with a velcro closure and on the dressage version there are slots for the billets. In the zipper pocket at the back, you can store the loose straight that you can use to carry your saddle. Lined with fleece The elastic edge allows the cover to fit almost every English saddle
not rated
£

30.00 inc. VAT
Select options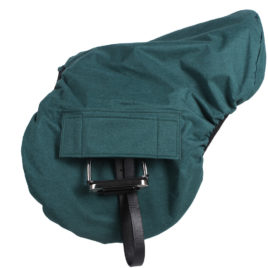 QHP Saddle Cover
Water-repellent saddle cover that can be used while riding and protects your saddle from, for example, rain. The stirrups can be passed through slots with a velcro fastener. The cover also has two slots on either side through which the girth can be passed. Thanks to the elastic hem, the cover fits nicely to your saddle.
Lined with fleece
Equipped with slots for the girth
The elastic hem allows the cover to fit practically any English saddle
not rated
£

27.00 inc. VAT
Select options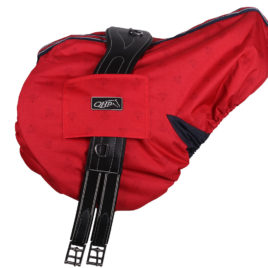 QHP Saddle Cover
Water-repellent saddle cover made of turnout fabric with a fleece lining. Because of the large size the cover will fit nearly every English saddle. With the cord the cover can be adjusted to the size of your saddle. The cover features two loops in which the girth can be placed.
Fabric composition: 100% polyester
Saddle cover made of water-repellent turnout fabric
Features two loops in which the girth can be placed
This saddle cover is lined with fleece
Large size so the cover will fit nearly every English saddle
Features an elastic cord with stop to adjust size
Dimensions: 80 cm in length, 75 cm in height
not rated
£

26.00 inc. VAT
Select options