Coats, Gilets & Jackets
Showing all 3 results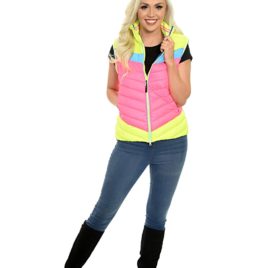 Equisafety Charlotte Dujardin Hi Vis Riding Gilet
Perfect for horse riders and walkers, the Gilet provides insulating warmth over your core - where it's most effective - leaving your arms free to decide whether it's actually cool enough for a jacket. The synthetic insulation maintains its insulating power even when damp.
TECHNICAL INFORMATION
Elegant tailored fit.
A durable water repellent finish provides protection from light moisture.
Lightweight fabrics help regulate body temperature and keep you comfortable.
Pairs with complementing garments for layering.
Soft ribbed inside collar.
2 large zipped pockets.
Retro Reflective piping & 2" tape.
Soft wickable lining.
Excellent warmth to weight ration.
Quilted technical insulation.
Sufficiently lightweight for year round use.
Sizes Child (8-12yrs) Can be found on Equisafety Kids Page
Adult Sizes S, M, L, XL, XXL
Our synthetic down is made from recycled plastic bottles. The 100% Polyester hollow core filaments are microscopic and featherlike, so naturally hold air pockets, giving a luxurious feel with excellent insulation and breathable properties.
MEASUREMENTS
Measurements in CM        S       M       L       XL     XXL A 1/2 chest width              50.5   53     55.5   58     59.5 B 1/2 waist                        44      46     48      50     52 D Back length                   61      62     63      64     65 E Shoulder across             41.5   43     44.5   46     47.5
not rated
£

69.00 inc. VAT
or 4 payments of £17.25 with Clearpay
Select options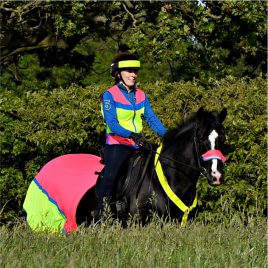 Equisafety Multi Coloured Waistcoat
BRAND NEW FOR SUMMER
Stunning summer colour choices to choose from. This is a technical lightweight highly breathable mesh waistcoat. Fully adjustable at the back, 2 large zipped pockets. Charlotte Dujardin rubber logo badge. A very comfortable waistcoat to wear.
Have fun and mix and match the range to really stand out.
For all year round use.
How does the Charlotte Dujardin Multi Coloured mesh waistcoat keep you cooler in warmer weather?
Colour is reflected light which means the absorbed light heats an object up. This is why dark coloured materials will heat up faster in sunlight than brighter materials; they absorb more light, and heat up more.
The Multi Coloured mesh fabric is perfect for reflecting sun light and keeping you cooler in the summer.
not rated
£

39.00 inc. VAT
or 4 payments of £9.75 with Clearpay
Select options
Equisafety Quilted Hi Vis Gilet – Polite, Orange, Yellow and Pink
The quilted hi vis gilet is fitted, elegant, flattering and comfortable to wear. 2 hidden zips at the back allowing extension over the back of the saddle. 3oz padding gives the wearer warmth without overheating. A deep storm collar is curved around the chin for extra comfort, it can be folded over if the weather is warmer. This fluorescent gilet has a wind-shield collar with extra reflective piping around the top. All zips have easy grab pullers. 2 Large waterproof front zipped pockets Sizes guide: Small / 8-10 Medium / 10-12 Large / 14-16 Xlarge / 16-18 XXlarge / 18-20  (50" chest)
not rated
£

48.00 inc. VAT
or 4 payments of £12.00 with Clearpay
Select options