Hay Nets
Showing all 3 results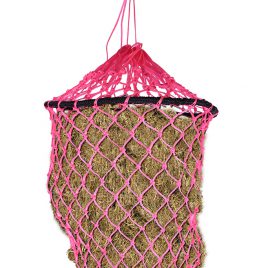 QHP Easy Fill Hay Net
This hay net features a firm but flexible ring on the top. This ring holds the net open and makes filling up easier than with a regular hay net. A hay net is easy to take with you when on the road. It offers the horse distraction over a long period of time. With a long string to tie the net to anything. 100 cm long With a 5 cm mesh Holds approx. 5-7kg
not rated
£

20.00 inc. VAT
Select options
Sale!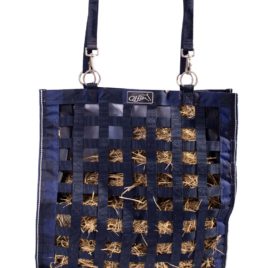 QHP Hay Slow Feeder
Hay bag with a net front made of wide strips of fabric. Features four rings on the top with adjustable loops to attach the bag. The hay bag can be closed at the top with a hook and loop fastener. Because the bag is made of strong 600D fabric, the horse won't easily damage it.
Fabric composition: 100% polyester
Slowfeeder hay bag made of robust 600D turnout fabric
With four rings and two adjustable loops with clips on top
Can be closed with a hook and loop fastener on top
Features three loops on the rear for extra attachment possibilities
Dimensions: 63,5 x 53 x 18 cm
Mesh width: 4 cm
Holds approximately: 4-6 kg
not rated
inc. VAT
Select options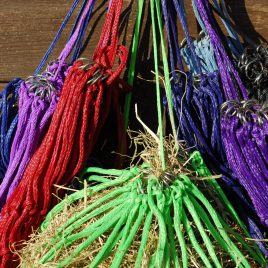 Harlequin Small Hole HayNets
Horsehage nets with small holes. Strong nylon net suitable for hay or haylage.
Fine mesh holes for controlled diet, hay lasts longer and less wastage.
not rated
£

5.00 inc. VAT
Select options