Matchy
Showing 1–12 of 51 results
Gorgeous Matchy Sets from Equestrian Stockholm, Rider By Horse, QHP and Woof Wear.
We love each of these unique brands, all gorgeous, high quality items.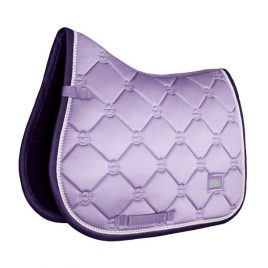 Equestrian Stockholm Jump/GP Lavender Saddle Pad
The favourite jump saddle pad Lavender is back – now with our new bamboo lining! A luxurious saddle pad in lavender colour with dark purple binding and gorgeous white pearl details. The saddle pad is quilted with the Equestrian Stockholm logo. The material on top is shiny, dirt repellent and the bottom part consists of bamboo lining. Perfect for keeping your horse dry and the saddle pad clean during your practice or competition. Why do we use bamboo in our saddle pads? There are several great features of the bamboo lining. Due to the porous structure, odours and moist are efficiently absorbed and ventilation is much better compared to other conventional fabrics. Not only does it keep your horse dry during warmer days – it also functions as excellent insulators against the cold. The bamboo charcoal has natural anti-bacterial characteristic, it is eco-friendly and it has UV-protection feature. All of this together make us proud to present our bamboo lining saddle pads – all for your horse to perform at its best!
not rated
£

72.00
or 4 payments of £18.00 with Clearpay
Select options