Back on Track
Showing all 4 results
Amazing quality Back on Track made with their own Welltex fabric.
This brilliant brands offers beautiful items that offer infrared technology.
Developed in Sweden, this fantastic technology helps to reduce injuries and swelling.
Back on track was founded in 2000 with the vision to create products that will work well for people, horses and dogs. The products are not only intended to protect but also prevent injuries and aid during rehabilitation. Hence our tag line: Prepare Perform Recover.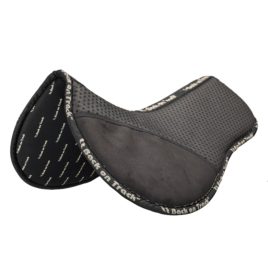 Back On Track Aurora Impact Half Pad
Shock absorbing half pad that evenly distributes the rider's weight and pressure. Lined with Welltex® technology to enhance blood circulation and support the muscles. 3D Mesh and Air Tech ensure high breathability and ventilation for best comfort. The anatomical shape and anti-slip suede patches provide good stability for the saddle. Lightweight material with a filling that shapes to the horse's back for a perfect custom fit. The pad will distribute pressure and provide extra volume where needed. A highly effective pad that provides extra comfort for both horse and rider. FULL SIZE ONLY • Welltex® technology • 3D Mesh and Air Tech • Shock-absorbing system • Forms to the horse's back • Lightweight • Low/ Medium profile
not rated
£

110.00 inc. VAT
Add to basket