Mattes
Showing 1–12 of 58 results
Mattes offer a high quality custom saddle pads, numnahs, half pads and much more.
Beautiful girths for your horses shape, as well as correction system in pads.
Design your own saddle pad!
If you have any questions or would like to see a mock up before purchasing – please do contact us.
If you require individual shims, please contact us to order.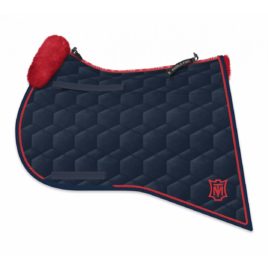 Mattes Baroque Saddle Pad
CURRENT ORDERS TAKING APPROX 6 WEEKS
NON-RETURNABLE Baroque cut for English saddles Available without sheepskin or with - made to your requirements. Sheepskin items made with 100% genuine sheepskin, providing protection under the panels and defining the saddle shape Spinefree® construction Available with Extra Wide Wither Area for horses / ponies that have either a prominent / high wither or are ridden in a saddle with a wide gullet. The Extra Wide Wither Area enables the Saddle pad to be correctly placed underneath the saddle, so that there is no pressure over a prominent or wide wither and the sheepskin is correctly positioned under the seat panels to provide optimum performance If you would like to see a mock up of what your item will look like or would like to discuss colours then please do feel free to contact us. Top Tape is available in White, Black, Pink, Champagne and Brown. Velcro Keepers are available in White, Black, Grey, Silver, Red, Burgundy, Pink, Champagne, Green, Taupe, Brown, Blackberry, Light Blue, Navy, Olive, Royal Blue and Nougat. If you would like these in a specific colour please contact us or mention at checkout. Otherwise we will select for you. Standard, D-ring or no top Velcro keepers are available. Not sure what size? We recommend a Small for 15" -16" saddles, Medium for saddles 16.5"-17", Large for 17.5"-18" and for saddles OVER 18" XL If you would like more measurements then please do let us know and we can send the Mattes size guide over
not rated
£

0.00 inc. VAT
Select options