Tendon Boots
Showing 1–12 of 14 results
QHP Champion Fetlock Boots
PLEASE NOTE, this item is not held in stock and can therefore take up to 7 working days.
Protect your horse's legs with these sporty fetlock protectors.
The special airflow neoprene lining ensures that heat and moisture are properly dissipated.
The air vents in the shell next to the tendons ensure that the legs do not overheat.
The boots can easily be fastened with elastic pin quick fasteners.
The neoprene lining provides good shock absorption
Anatomically shaped shell, matching tendon boots also available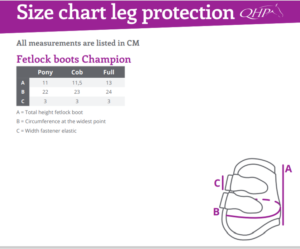 not rated
£

35.00 inc. VAT
or 4 payments of £8.75 with Clearpay
Select options