Tapestry
Showing all 2 results
Tapestry Comfort Dressage Girth
Dressage riders get the competitive edge!  Horses using the Tapestry Comfort Girth move freely and comfortably. The patented design places elastics where your horse needs it most while holding the saddle in place. The simple design allows the elastic to expand at the rib cage so your horse can breath freely.
Girth Details:
The Tapestry Comfort Girth has a 6" sternum pad with non-slip neoprene that helps keep the girth and saddle in place and elastic that breathes with the horse relieving pressure behind the elbows. Quality stitching details with stainless steel buckles and a D ring for martingale or breastplate attachment. It is available in black easy care genuine leather and elastic in sizes 24" to 32". PLEASE FEEL FREE TO CONTACT US IF THE SIZE YOU REQUIRE IS OUT OF STOCK
not rated
£

139.00 inc. VAT
Select options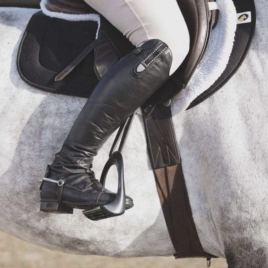 Tapestry Comfort English Long Girth
Equestrians using the Long English Tapestry Comfort Girth feel the increased performance in their horses - longer striding, more relaxed canter, deeper and more relaxed breathing, and many have said they find the distances between jumps easier to achieve. The internationally patented Tapestry Comfort Girth is a premium girth that can improve performance and competitiveness in your horse producing freer, more natural movement.
If you happen to have a sensitive, or girthy horse, you absolutely must try this product. It will change your relationship with your horse.
not rated
£

145.00 inc. VAT
Select options