Mattes Saddle Pads
Showing all 7 results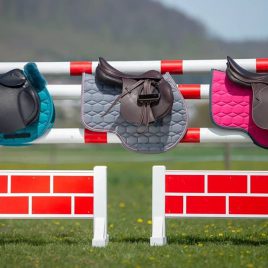 Mattes Saddle Pad with Pocket Correction System
TO ARRIVE BEFORE CHRISTMAS ALL MATTES ORDERS MUST BE PLACED BY THE 6TH NOVEMBER
CURRENT ORDERS TAKING UP TO 6 WEEKS
Stunning Mattes pads in the Square Shape. The sheepskin used is 100% genuine sheepskin and of the highest quality. This option gives you the 2 pocket or 4 pocket correction system. There are different reasons for using a 2 or 4 pocket so please see your saddler or feel free to contact us. The Square and Eurofit Saddle Pads are available without pocket correction system as well. Please note for 4 pocket correction system – this includes 6 front and rear shims. Please note for 2 pocket correction system – this includes 6 shims. Additional shims may be purchased. 4 pocket correction system is known at mattes as the 2 pocket and is supplied with 3 shims per pocket so a total of 12. The 2 pocket correction system is known at mattes as the 1 and is supplied with larger shims. Available in Pony, Cob, Full and XL in Dressage, GP and Show Jumping style. Choose from pads without sheepskin, saddle shaped sheepskin without sheepskin lining (this is a very popular option as gives you the look of a half pad without the bulk), front sheepskin, semi lined, semi lined with front sheepskin, semi lined with saddle shaped sheepskin and semi lined with front strips and saddle shaped sheepskin trim (this option is ideal for horses with sensitive skin). For sheepskin lined items you can choose to have extra wide wither area, this is a great option for those horses/ponies with high withers or when using with a wide gullet saddle.  The Extra Wide Wither Area enables the Saddle pad to be correctly placed underneath the saddle, so that there is no pressure over a prominent or wide wither and the sheepskin is correctly positioned under the seat panels to provide optimum performance.
Huge range of colour options available NON-RETURNABLE
We can help you with colour choices if you are stuck, and can provide mock ups of your item before you purchase. You can choose from standard cotton quilting, the new sheen quilting (the uppermost material is glossy, non-slip and easy care with the larger quilting) and velvet. As well as lots of lovely colour sheepskins, binding and pipings. Photos of the new velvet material can be found in the photo gallery, slightly different feel and shade to the previous velvets. Top Tape and Velcro Keepers are available in a limited range of colours, if you aren't fussy we will select those for you. The Mattes logo is available in any of the piping colours and will be added to both sides of your pad if you want it, you do not have to have the logo. Embroidery is available - please contact us for a quote. Standard, D-ring or no top Velcro keepers are options
Detailed washing and care instructions with product information are attached to every single product! 
If washed correctly Mattes products can last for years.
To view photos larger please click on main photo and move along. 
We have many photos of previously in stock items that we are happy to show you to aid in your decision. If you have any questions do not hesitate to contact us, we appreciate that it can be confusing. 
Mattes Saddlefix a simple system designed to ensure that your saddle pad says exactly where it should, with connections to the front and rear this will avoid any sliding of the half pad. For embroidery please contact us directly. Not sure what size? We recommend a Small for 15" -16" saddles, Medium for saddles 16.5"-17", Large for 17.5"-18" and for saddles OVER 18" XL If you would like more measurements then please do let us know and we can send the Mattes size guide over
not rated
£

70.00 inc. VAT
Select options