Mattes Saddle Pads
Showing 1–12 of 27 results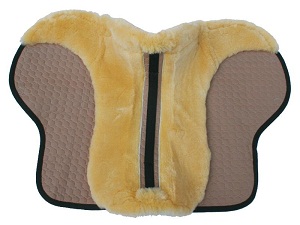 Mattes Eurofit Cut Saddle Pad Semi Lined with Strips of sheepskin along the front edge and saddle shaped trim
These Stunning Mattes Saddle Pads are absolutely gorgeous and made from 100% genuine sheepskin, providing protection under the panels and along the front defining the shape of the saddle. The strips are great for sensitive horses, perhaps if you've had saddle pads rub before. Available in Pony, Cob, Full and XL. Made in Dressage, GP and Show Jumping Style. These items are available in a huge variety of colours and therefore are made specifically for you in the options you select.
Therefore these items take 4-6 weeks to be made.
Spinefree® construction Available with Extra Wide Wither Area for horses / ponies that have either a prominent / high wither or are ridden in a saddle with a wide gullet. The Extra Wide Wither Area enables the Saddle pad to be correctly placed underneath the saddle, so that there is no pressure over a prominent or wide wither and the sheepskin is correctly positioned under the seat panels to provide optimum performance. You can have a separate colour for the binding and add up to three rows of piping We do have swatches for Quilt (including velvet), Binding, Wool and Piping colours, please do contact us if you would like a larger photo or perhaps to see colours next to each other. Top Tape is available in White, Black, Pink, Champagne and Brown. Velcro Keepers are available in White, Black, Grey, Silver, Red, Burgundy, Pink, Champagne, Green, Taupe, Brown, Blackberry, Light Blue, Navy, Olive, Royal Blue and Nougat. If you would like these in a specific colour please contact us or mention at checkout. Otherwise we will select for you. Standard, D-ring or no top Velcro keepers are available. Again contact us or mention at checkout. Embroidery and saddle fix also available. To play with colours and design your own you can visit https://shop.mattes-equestrian.com/saddle-pads/contoured-pad.html?configurator
 This is a very popular item, giving you the look of an underpad and half pad without the bulk.
Detailed washing and care instructions with product information are attached to every single product!
If washed correctly Mattes products can last for years.
To view photos larger please click on main photo and move along. 
We have many photos of previously in stock items that we are happy to show you to aid in your decision. If you have any questions do not hesitate to contact us, we appreciate that it can be confusing. 
If you would like to see a mock up of what your item will look like or would like to discuss colours then please do feel free to contact us.
not rated
£

205.00
or 4 payments of £51.25 with Clearpay
Select options